---
CIO Message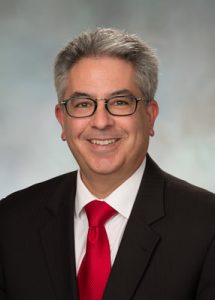 On behalf of the University of Maine System Information Technology Division, I am proud to welcome you to this updated site.  As articulated below, our centralized UMS:IT team has embraced the mission to design and deliver technology solutions to support the mission of the University of Maine System and its member campuses.   To learn more about our team, please visit our IT Organization page.
Our shared mission requires establishing partnerships with each University of Maine System campus community to understand the unique goals and objectives that require or would benefit from technological support and resources.  Over the past year, we have made significant impact in providing and supporting resources designed to improve teaching, learning and research across the University through strategic investment in infrastructure, platforms and tools.  To learn more about these efforts, please visit our Active Project Portfolio page.
I truly hope you will find the resources available through this site helpful.
Sincerely, 
David M. Demers, Ph.D.
Chief Information Officer
---
Mission, Vision, Values
UMS:IT Mission Statement
UMS:IT designs and supports technology solutions through a team of knowledgeable, dedicated professionals. Working within a structure of shared governance and data-driven decisions, we support the mission of the University of Maine System and its campuses.
UMS:IT Vision Statement
UMS:IT strives to be a trusted partner by empowering our university communities with reliable and innovative solutions.
UMS:IT Service Values
We value delivering a comprehensive suite of high quality SERVICES designed to meet and exceed customer expectations regardless of skill set or location
We value clear and effective COMMUNICATION with our customers to foster an informed community
We value COLLABORATION with stakeholders to ensure availability of reliable, high quality solutions designed to meet the diverse needs of our customers
We value EMPOWERING individuals with appropriate solutions determined through engagement and developing an understanding of each users' expectations and experience level with technology
We value promoting a PROFESSIONAL technology service organization that aspires to provide reliable, valuable solutions that allow customers to achieve success
---