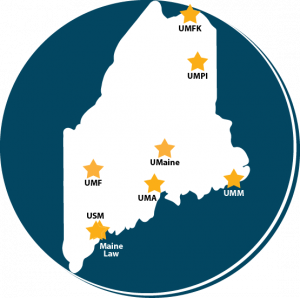 University of Maine
The University of Maine is the state's land grant, sea grant and space grant university. As Maine's flagship public university, UMaine has a statewide mission of teaching, research and economic development, and community service. UMaine is the state's only public research university and among the most comprehensive higher education institutions in the Northeast, where undergraduate and graduate students have opportunities to participate in groundbreaking research with world-class scholars. UMaine offers bachelor's, master's and doctoral degrees.
University of Maine at Augusta
With campuses in Augusta and Bangor, eight UMA Centers across Maine, and expertise in online and distance learning, the University of Maine at Augusta is considered the university of choice for Mainers who want to receive a quality and affordable education without uprooting their lives.
University of Maine at Farmington
Established in 1864 as Maine's first public institution of higher education, the University of Maine at Farmington is Maine's public liberal arts college, offering quality programs in teacher education, human services, and arts and sciences.
University of Maine at Fort Kent
Founded as the Madawaska Training School in 1878, the University of Maine at Fort Kent's goal is to be Maine's premier rural public university; educating students to become responsible citizens committed to environmental stewardship through experiential learning.
University of Maine at Machias
The University of Maine at Machias is the regional campus of the University of Maine. Offering quality baccalaureate programs with an emphasis on experiential and community-engaged learning, UMM's distinct campus environment and strong regional identity are enhanced by a partnership with the state's flagship university.
University of Maine at Presque Isle
UMPI is a nationally recognized institution of innovation and opportunity, providing students with an affordable and personalized education, a caring, small-university environment, and life-changing experiences that prepare them to be career-ready graduates. Established in 1903, UMPI now offers Bachelor's, Associate's, online, and Competency-Based Education degree programs, as well as its first Master's degree program.
University of Southern Maine
The University of Southern Maine is northern New England's outstanding public, regional, comprehensive university, dedicated to providing students with a high-quality, accessible, affordable education. From campuses in Portland, Gorham, and Lewiston-Auburn, USM offers baccalaureate, master's, and doctoral programs.
The University of Maine School of Law
The University of Maine School of Law is committed to justice and leadership in a changing world.  As the state's public and only law school, Maine Law provides an accessible and affordable student-focused program of legal education through a rigorous doctrinal and experiential curriculum.