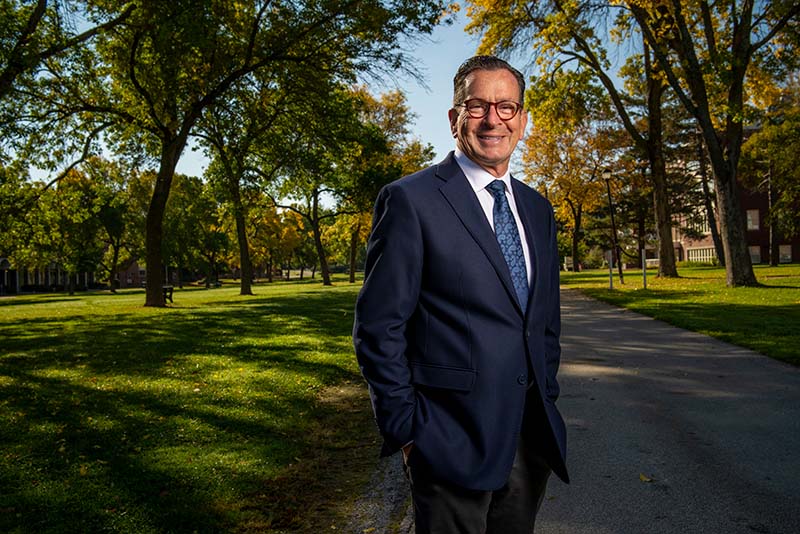 A former prosecutor, lawyer, Mayor, and two-term Governor of Connecticut, Chancellor Dannel P. Malloy brings 22 years of public service leadership to the University of Maine System.
Chancellor Malloy is leading the University of Maine System's effort to unify Maine's public universities in collaborative service to the students and people of Maine through the innovation of a first-in-the-nation state-wide unified accreditation from the New England Commission on Higher Education. With unified accreditation, the universities that make up the University of Maine System are now evaluated together based on how well they share state resources and academic programs in meeting accreditation standards for institutional quality and higher education effectiveness.
Under Chancellor Malloy's leadership the University of Maine System is also in the midst of one of the nation's safest returns to in-person class and work as the global COVID-19 pandemic continues. Chancellor Malloy led the development of a safe reopening framework for all higher education institutions in Maine this spring, and has overseen the Together for Maine initiative that safely returned students to university campuses and classes this fall, managing a COVID testing positivity and prevalence rate so far of only one-tenth of one percent, with nearly half of all students having at least one in-person class experience and the System's residence halls at roughly 70 percent capacity. And in a display of confidence in the System's Together for Maine plan, fall enrollment bucked national trends, remaining stable compared to pre-pandemic levels.
The University of Maine System announced its universities' transition to distance instruction over spring break to limit the spread of COVID even before Maine recorded its first known case. Focusing on student success and backed by System-endorsed academic accommodations, faculty and staff helped 98.5% of students successfully complete their course work for the semester.
The University of Maine System has been a vital partner to the State of Maine as it continues to set a national standard for containing COVID-19 and responding to public health and community needs. Nursing students and faculty participated in pandemic surge staffing, campus spaces were converted to shelters, and the universities contributed equipment, supplies, and access to technology to support the needs of Maine's citizens and communities.
In October 2020, the Harold Alfond Foundation announced a $240 million gift to the University of Maine System, making investments in engineering, student success and retention, graduate and professional programs, and Division 1 athletics and gender equity. This gift is the ninth largest ever to a public institution of higher education and the biggest in New England's history. Leaders of the Alfond Foundation signaled a willingness to bet big on the future of Maine's public universities because of the strategic direction and leadership of the University of Maine System and its universities under Chancellor Malloy.
Dannel Malloy is the former Rappaport Distinguished Visiting Professor at Boston College Law School and taught undergraduate political science for fifteen semesters as an adjunct professor at the University of Connecticut. He holds a B.A. in Political Science and Sociology from Boston College, a J.D. from Boston College Law School, and six honorary degrees.
In 2016 Dan Malloy was honored as the John F. Kennedy Profile in Courage Award. Malloy was recognized for defending the U.S. resettlement of Syrian refugees amid security concerns following the November 2015 terrorist attacks in Paris; putting his principles into action, Malloy personally welcomed a family of Syrian refugees to New Haven, Connecticut. Other Profile in Courage Award recipients include U.S. Presidents Barack Obama, George H.W. Bush, and Gerald Ford.
In 1982, he married his wife, Cathy, whom he met while they were students at Boston College. They have three sons, Dannel, Ben, and Sam.
download photo option 1 (101 KB .jpg)
download photo option 2 (20.4 MB .jpg)
If you are unable to download, contact rowenac@maine.edu for assistance.