Description:
This micro-credential recognizes and validates the learner's successful completion of the University of Maine System (UMS) Leadership pathway (Levels 1, 2 and 3). Learners completed training in leadership development and applied their learning by fulfilling the responsibilities of a leadership role on campus or in the community, receiving a positive performance review. Learners reflected on the success of their experience and are able to articulate the leadership skills they applied and strengthened while earning this micro-credential. Learners demonstrated employability skills by earning one or more 21st Century Education Design Lab micro-badges. Learners were assessed using the Education Design Lab's initiative rubric and demonstrated competence in exhibiting initiative (leading with/without a title, acting as a catalyst, demonstrating self-awareness and learning from experience). Evidence was verified and assessed by UMS faculty or staff to ensure UMS micro-credential quality standards were met.
Contact Information:
Websites:
Categories:
Who is Eligible:
Mapped Education Design Lab Badges: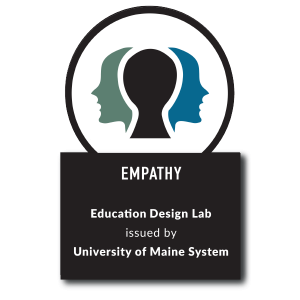 Education Design Lab's Empathy 21st Century Skill Badge – Note: The empathy badge is only mapped at the University of Maine.
Badgr Pages for the Levels of the Micro-Credential:
---