How to Use Page Attributes to Set Parent Page and Template
The second box on the right side of the "Edit Page" page, titled "Page Attributes" and shown in figure 1, allows you to select a parent page and page template. The parent page is a page you would like this page to be nested under. This will appear in the URL, and also can be helpful in organizing all of your pages for you as an editor on the "All Pages" page.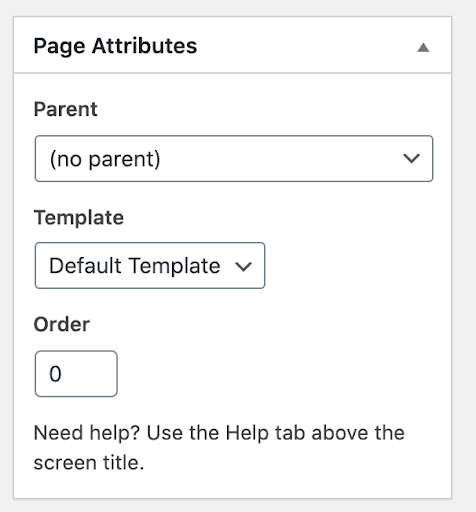 For example, in the URL for the page you are currently reading:
maine.edu/content-management/wordpress-basics/page-attributes/
"content-managment" is the subsite, "wordpress-basics" is the parent page, and "page attributes" is the page slug, as described previously in the Title and URL page.
This is also where you will set the page template. The page templates used on maine.edu are:
After you have selected your page template, you will need to click "Save Draft" or "Publish" for the specific template settings menu to appear under the page editing box.
Notes:
If you would like to use the blog page template please contact the content management team for additional training on using posts.
The Fullwidth page template does not have an additional template settings menu.
The front page must be set to "Default Template" if using "Home Layout" features or "Home Slider" under the "Theme Options" menu.
Contact the content management team for additional training on homepage options.
---