After national search, interim leader promoted to permanent role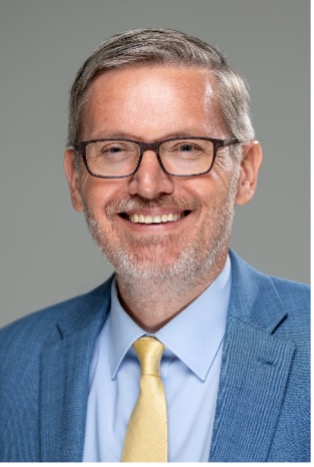 Orono, Maine — University of Maine System Chancellor Dannel Malloy has named Dr. Jeffrey St. John as Vice Chancellor for Academic and Student Affairs (VCASA) for the University of Maine System. St. John has served as Interim VCASA since December 2022, leading strategic academic planning and policy development, student affairs and enrollment initiatives, institutional research, and accreditation. He also led the writing team that prepared the critical five-year strategic plan approved by the System's Board of Trustees on May 22.
"The work that Jeff has undertaken has been tremendously important in guiding and coordinating system-wide initiatives and operations," said Chancellor Malloy. "The VCASA serves as a change leader for UMS, and we would not be in the positive position we are without Jeff's vision and steadfast work. It is a privilege to offer him this position."
"I'm grateful to Chancellor Malloy for the opportunity to serve in this role," St. John said. "He has assembled a wonderful team, and I'm thrilled to be a part of it as our universities, Law School, and System collectively prepare for the work of implementing our new System-wide strategic plan in service to our students and our state."
St. John has worked for the System since January 2021, when he was appointed Associate Vice Chancellor for Accreditation and Strategic Initiatives after serving in a variety of administrative roles at the University of Maine from 2008 through 2020. Prior to that, St. John was a faculty member in the School of Communication Studies and a Faculty Fellow in Residence in the Honors Tutorial College at Ohio University.
St. John holds a B.A. from Eastern Washington University, an M.A. in Communication and Journalism from the University of Maine, and a Ph.D. in Communication from the University of Washington.
About the University of Maine System
Established in 1968, the University of Maine System (UMS) unites seven Maine's distinctive public universities, comprising 10 campuses and numerous centers, in the common purpose of providing quality higher education while delivering on its traditional tripartite mission of teaching, research, and public service.
In 2020 UMS became the first and only statewide enterprise of public higher education in the country to transition to a unified accreditation for the system. Much different than a merger or consolidation, unified accreditation is a new operating model for the University of Maine System that removes the primary barrier to inter-institutional collaboration.
A comprehensive public institution of higher education, UMS serves more than 30,000 students annually and is supported by the efforts of more than 2,000 full-time and part-time faculty, more than 3,000 regular full-time and part-time staff, and a complement of part-time temporary (adjunct) faculty.
Reaching more than 500,000 people annually through educational and cultural offerings, the University of Maine System also benefits from more than two-thirds of its alumni population residing within the state; more than 123,000 individuals.
The System consists of seven main campuses: The University of Maine (UMaine), including its regional campus the University of Maine at Machias (UMaine Machias); the University of Maine at Augusta (UMA); the University of Maine at Farmington (UMF); the University of Maine at Fort Kent (UMFK), the University of Maine at Presque Isle (UMPI); and the University of Southern Maine (USM). The System also includes a UMA campus in Bangor, USM campuses in Gorham and Lewiston-Auburn, the University of Maine School of Law, and the University of Maine Graduate and Professional Center.