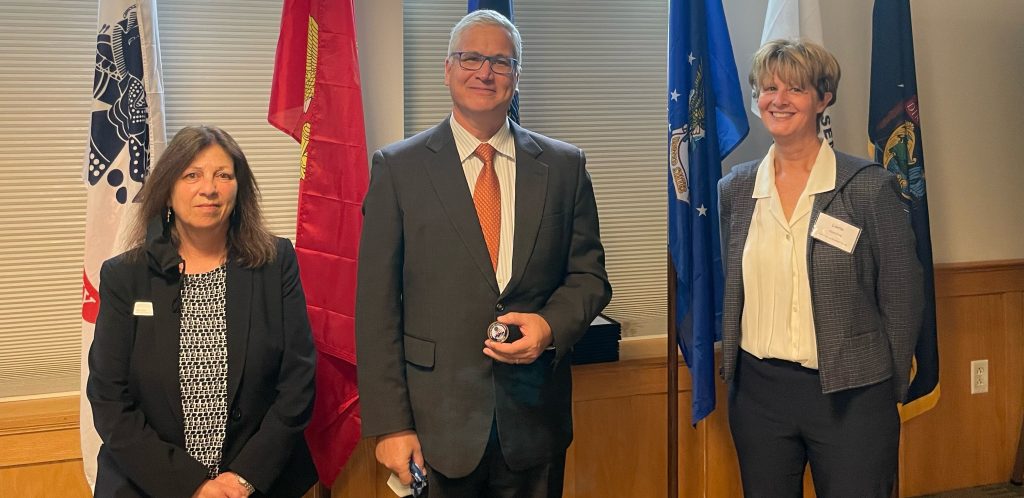 Portland, Maine — Robert Placido, vice chancellor of academic affairs for the University of Maine System, received the Maine Military and Community Network's (MMCN) Coin of Excellence during its 10th annual conference on Thursday, June 16.
This coin recognizes individuals and organizations that provide the MMCN with substantial support. Amy Line, director of military and veterans services at the University of Maine at Augusta (UMA), presented Placido the coin during the event, held at the University of Southern Maine (USM) Lewiston-Auburn College Campus. Line, a Navy veteran, is the chair of the MMCN's steering committee, which oversees regional groups throughout the state.
Placido is a four-year U.S. Air Force veteran who worked as a Tactical Air Control Party specialist from 1985–89. While serving, Placido supported Army and Marine units on the frontline by calling in air strikes on the ground with timeliness and accuracy. During his 20-year tenure with Texas Woman's University, most recently as its associate provost and chief information officer, Placido provided training and coaching at the institution's Veterans Center. (External site), as well as United Way of Denton in Texas.
"My experience in the Air Force turned my life around for the positive, and my opportunities to help my fellow veterans achieve their higher education goals is a joy," Placido says. "I will cherish this award."
Camden Ege, assistant director of veteran services for USM, also received the organization's Coin of Excellence during the event.
Ege served six years as a member of the Air Force Security Force.During his military career, Ege performed various law enforcement duties and provided security to some of the top U.S. security assets. While studying at USM, which also was designated a Military Friendly School this year (External site), Ege helped establish the institution's chapter of the Student Veterans of America and expand its Green Zone program, which gives faculty and staff information about challenges veterans face in academia. In 2019, he was named a Red Cross "Real Hero" (External site).
"I am grateful that I have the opportunity to support veterans and their families every day at USM, and it means a lot to be recognized by my peers in this way." Ege says.
About the University of Maine System
Established in 1968, the University of Maine System (UMS) unites seven Maine's distinctive public universities, comprising 10 campuses and numerous centers, in the common purpose of providing quality higher education while delivering on its traditional tripartite mission of teaching, research, and public service.
In 2020 UMS became the first and only statewide enterprise of public higher education in the country to transition to a unified accreditation for the system. Much different than a merger or consolidation, unified accreditation is a new operating model for the University of Maine System that removes the primary barrier to inter-institutional collaboration.
A comprehensive public institution of higher education, UMS serves more than 30,000 students annually and is supported by the efforts of more than 2,000 full-time and part-time faculty, more than 3,000 regular full-time and part-time staff, and a complement of part-time temporary (adjunct) faculty.
Reaching more than 500,000 people annually through educational and cultural offerings, the University of Maine System also benefits from more than two-thirds of its alumni population residing within the state; more than 123,000 individuals.
The System consists of seven main campuses: The University of Maine (UMaine), including its regional campus the University of Maine at Machias (UMaine Machias); the University of Maine at Augusta (UMA); the University of Maine at Farmington (UMF); the University of Maine at Fort Kent (UMFK), the University of Maine at Presque Isle (UMPI); and the University of Southern Maine (USM). The System also includes a UMA campus in Bangor, USM campuses in Gorham and Lewiston-Auburn, the University of Maine School of Law, and the University of Maine Graduate and Professional Center.
Please follow these links to the UMS Logo, UMS and individual university style guides and an image and biographical information for Chancellor Malloy.