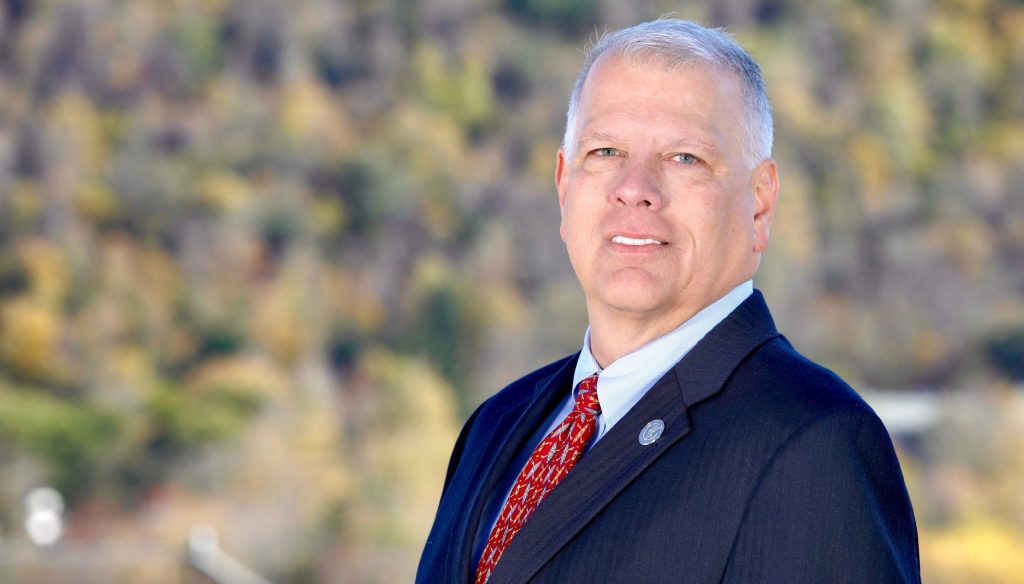 Laliberte, who is currently President of the State University of New York at Delhi, will assume the UMA leadership post on Aug. 1 and has signed a three-year contract
Augusta, Maine — Following the unanimous approval of the University of Maine System (UMS) Board of Trustees, Chancellor Dannel Malloy today named Michael Laliberte as President of the University of Maine at Augusta (UMA), effective Aug. 1.
A native New Englander, Laliberte comes to Maine's third-largest public university with more than three decades of demonstrated leadership in higher education. Since 2016, he has served as President of the State University of New York (SUNY) at Delhi, where he added 19 new degree programs to address local and state workforce needs, launched innovative initiatives to improve student success, grew philanthropic giving and oversaw $42 million in transformative capital projects.
Prior to his presidency in the SUNY System, Laliberte drove increases in both student recruitment and retention as Vice Chancellor for Student Affairs and Enrollment Management from 2010–16 at the University of Wisconsin Milwaukee, which enrolled nearly 30,000 students at the time, and from 2006–10 in a similar role at Boise State University, which enrolled more than 19,000 students.
"Like nearly half of UMA's students, Dr. Laliberte was the first in his family to attend college, and he understands the proven power of affordable postsecondary education in advancing social mobility," said Chancellor Malloy. "As working Mainers increasingly realize the importance of a postsecondary degree or credential to achieving their personal and professional potential, UMA is uniquely well positioned to meet the reskilling and upskilling needs of lifelong learners, especially adults, veterans, transfer students and those with some college but no degree or credential.
"Dr. Laliberte has the right combination of executive leadership, student affairs, and enrollment management experience to ensure UMA leverages its strengths and statewide assets to provide high-quality, affordable, and accessible higher education, meet Maine's workforce needs, and be a collaborative partner to his colleagues at Maine's other public universities in our System," Chancellor Malloy said.
Raised in Rhode Island, Laliberte earned his doctoral degree in educational leadership in higher education from Johnson & Wales University; a master's degree in college student development and counseling from Northeastern University; a bachelor's degree in human development, counseling, and family studies from the University of Rhode Island; and an Advanced Certificate of Fundraising Management from Indiana University Lilly Family School of Philanthropy.
He was joined at the announcement held Thursday at UMA's Augusta campus by his husband, Tom Pauken.
"I am honored to have been selected as the next President of the University of Maine at Augusta and I recognize the trust and confidence the Search Committee, Chancellor, and Trustees have placed in me to lead this exceptional institution," said Laliberte.
"I believe my background and experience have prepared me to embrace the unique opportunities and address the challenges specific to UMA, while supporting its mission and the population it serves. I look forward to working with the outstanding and dedicated faculty and staff as we continue to provide students with a first-rate, affordable education. And I am thrilled to be returning to New England and to be relocating to Maine, which has always held a special place in my life and in the lives of my family."
The appointment comes after a robust national search, which was led by a 14-member committee that was chaired by UMS Trustee Sven Bartholomew and included UMA faculty, staff, students, alumni, and community stakeholders. Following the unanimous approval of the appointment by UMS Trustees at their March 28 meeting, Laliberte signed a three-year contract.
"We are pleased to welcome Dr. Laliberte as UMA's next President. He brings a long track record of leadership at institutions with missions similar to UMA's. We welcome his student-centered approach to education and innovative approaches to helping our diverse student population meet their educational goals," said UMA Professor of Science Susan Baker, who is in her 39th year on the faculty.
"On my behalf of the Board of Visitors, we are delighted to welcome Michael Laliberte as the new President of the University of Maine at Augusta. Dr. Laliberte's vast experience in higher education and his proven abilities to promote community partnership make him the ideal candidate to lead UMA. We look forward to supporting Michael and his inclusive leadership style to ensure that our students and staff have every opportunity to excel at UMA," said search committee member Craig Larabee, CEO of JMG and Vice-Chair of UMA's Board of Visitors.
UMA transforms the lives of students of every age and background through affordable high-quality postsecondary education and workforce training offered through its main campuses in Augusta and Bangor, online, and at UMA Centers in Brunswick, East Millinocket, Ellsworth, Houlton, Lewiston, Rockland, Rumford and Saco, and 30 community sites. More than half of UMA's students are 25 or older. The university has 342 employees and currently enrolls 3,102 students, with an additional 450 Maine high school students currently earning credit through its early college programs. For more information, visit uma.edu (External site).
UMA's longtime Provost, Joe Szakas, has been Interim President since August 2021, when Rebecca Wyke, who had led the university since 2015, returned to state service to be the Chief Executive Officer of the Maine Public Employees Retirement System.
Chancellor Malloy is also expected to name a new President for the University of Southern Maine and an Interim President for the University of Maine at Farmington before June 30.
About the University of Maine System
Established in 1968, the University of Maine System (UMS) unites seven Maine's distinctive public universities, comprising 10 campuses and numerous centers, in the common purpose of providing quality higher education while delivering on its traditional tripartite mission of teaching, research, and public service.
In 2020 UMS became the first and only statewide enterprise of public higher education in the country to transition to a unified accreditation for the system. Much different than a merger or consolidation, unified accreditation is a new operating model for the University of Maine System that removes the primary barrier to inter-institutional collaboration.
A comprehensive public institution of higher education, UMS serves more than 30,000 students annually and is supported by the efforts of more than 2,000 full-time and part-time faculty, more than 3,000 regular full-time and part-time staff, and a complement of part-time temporary (adjunct) faculty.
Reaching more than 500,000 people annually through educational and cultural offerings, the University of Maine System also benefits from more than two-thirds of its alumni population residing within the state; more than 123,000 individuals.
The System consists of seven main campuses: The University of Maine (UMaine), including its regional campus the University of Maine at Machias (UMM); the University of Maine at Augusta (UMA); the University of Maine at Farmington (UMF); the University of Maine at Fort Kent (UMFK), the University of Maine at Presque Isle (UMPI); and the University of Southern Maine (USM). The System also includes a UMA campus in Bangor, USM campuses in Gorham and Lewiston-Auburn, the University of Maine School of Law, and the University of Maine Graduate and Professional Center.
Please follow these links to the UMS Logo, UMS and individual university style guides and an image and biographical information for Chancellor Malloy.