Shield T3 Health, the University of Maine System's COVID-19 testing partner with a mobile lab on the University of Maine campus in Orono, has verified that its PCR testing methods are effective in detecting infection by all known COVID-19 variants, including Omicron.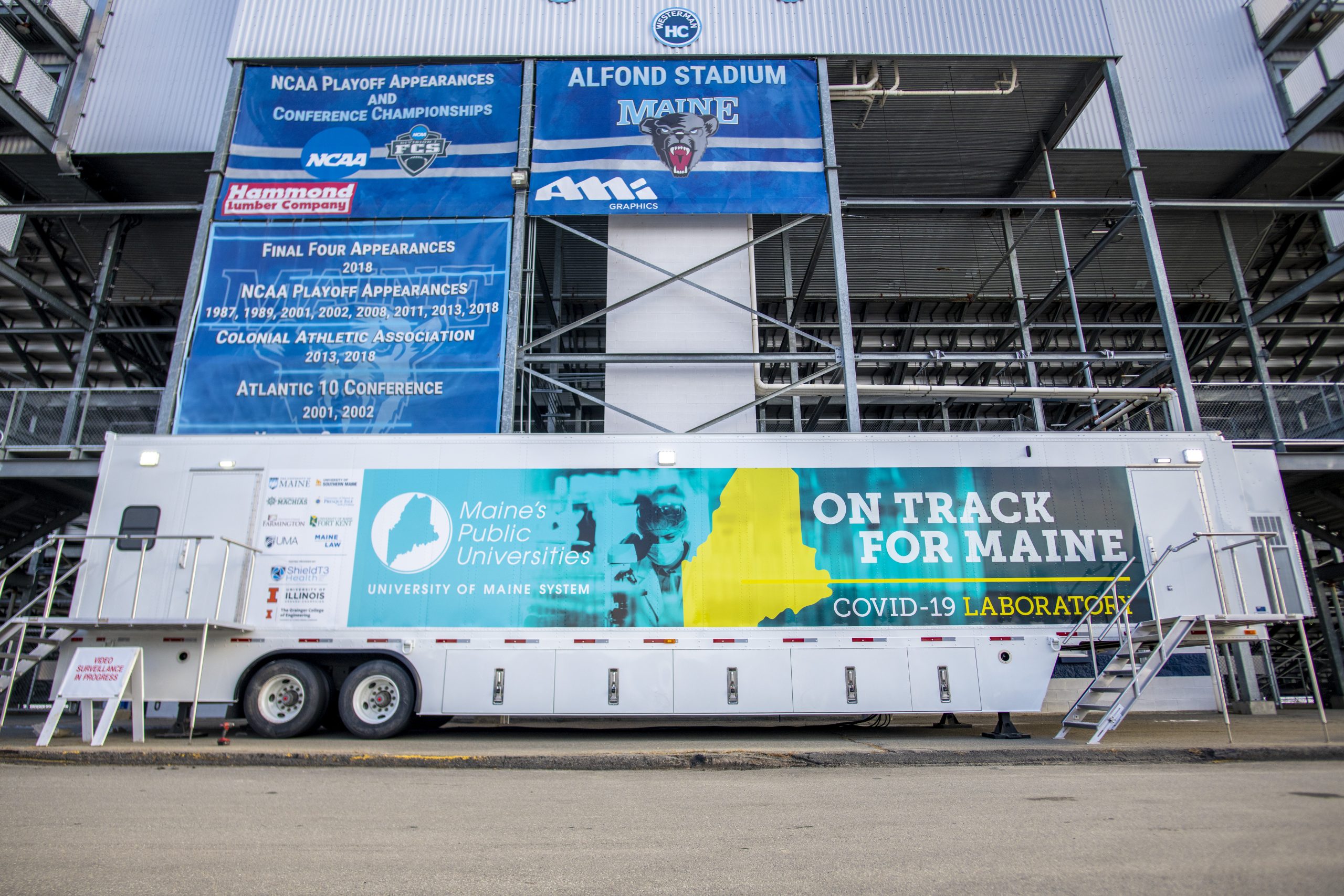 Orono, Maine — Shield T3 Health, which provides saliva-based PCR tests used by the University of Maine System (UMS), confirmed that its testing can detect COVID-19 and all of its known variants, including Delta and now Omicron (PDF). The verification follows the discovery and initial spread of Omicron, which the World Health Organization (WHO) designated a "variant of concern" on Nov. 26 (External site).
The U.S. Centers for Disease Control and Prevention (CDC) announced Dec. 1 that the first confirmed case of COVID-19 caused by the new variant was discovered in California (External site), but no confirmed cases have been identified in Maine at this time.
"Maine's public universities continue to prioritize health," said Chancellor Dannel Malloy. "Using COVID testing to identify and isolate infection, the testing capacity we have brought to the state, and our latest efforts to encourage booster shots are among the many measures we have put in place to help keep our students, faculty and staff, and communities safe."
The PCR testing capacity available in Maine through the Shield T3 Health mobile laboratory on the UMaine campus also supports testing practices at other state entities, including the Maine Department of Health and Human Services, the Maine Community College System and the Maine Public Employees Retirement System. Shield T3 can process 10,000 COVID tests per day at its UMaine-based mobile laboratory.
Individual testing is not available at the mobile laboratory.
"COVID variants remain a cause for concern and yet another reason to get vaccinated," said Jeanne Lambrew, Commissioner of the Maine Department of Health and Human Services. "We are tracking developments with Omicron closely and appreciate the preparations that our testing partners are making to ensure that the PCR testing methods we rely on as part of screening practices are capable of detecting infection by all variants that have been identified to date."
PCR tests developed by Shield T3, which is based at the University of Illinois System, uses a molecular assay that can pinpoint the presence of three gene targets from SARS-CoV-2, the virus that causes COVID-19, according to the test supplier. Surveying for multiple genes allows the test to detect the virus even when a variant mutation impacts one of those genes. The tests, however, cannot determine the specific variant that has infected someone.
"We will remain vigilant and update you all with any pertinent information," wrote Dr. Christopher Lemelle, chief medical officer for Shield T3, in a letter to UMS. "As always, we are committed to keeping you and your staff safe and able to continue to operate."
The System and Shield T3 entered into an agreement in January 2021. The agreement included a mobile testing laboratory delivered to UMaine for Shield T3 to process test results for all UMS universities on-site and eliminate the need to ship collected samples to out-of-state laboratories.
Since July 2020, UMS has administered more than 200,000 tests, which have detected almost 900 cases of COVID-19. November was the most heavily tested month for UMS since April 2021 with more than 9,000 tests processed.
Testing serves as a crucial component for the System's Together for Maine initiative to maintain the safety of its campuses during the pandemic. The public health campaign includes resources and outreach for COVID-19 vaccines. More than 95% of in-person students and employees across the System have been vaccinated. Community members with a qualified vaccination exemption are required to test weekly.
About the University of Maine System
Established in 1968, the University of Maine System (UMS) unites seven distinctive public universities, comprising 10 campuses and numerous centers, in the common purpose of providing quality higher education while delivering on its traditional tripartite mission of teaching, research, and public service.
In 2020 UMS became the first and only statewide enterprise of public higher education in the country to transition to a unified accreditation for the system.  Much different than a merger or consolidation, unified accreditation is a new operating model for the University of Maine System that removes the primary barrier to inter-institutional collaboration.
A comprehensive public institution of higher education, UMS serves more than 30,000 students annually and is supported by the efforts of more than 2,000 full-time and part-time faculty, more than 3,000 regular full-time and part-time staff, and a complement of part-time temporary (adjunct) faculty.
Reaching more than 500,000 people annually through educational and cultural offerings, the University of Maine System also benefits from more than two-thirds of its alumni population residing within the state; more than 123,000 individuals.
The System consists of seven main campuses: The University of Maine (UMaine), including its regional campus the University of Maine at Machias (UMM); the University of Maine at Augusta (UMA); the University of Maine at Farmington (UMF); the University of Maine at Fort Kent (UMFK), the University of Maine at Presque Isle (UMPI); and the University of Southern Maine (USM).  The System also includes a UMA campus in Bangor, USM campuses in Gorham and Lewiston-Auburn, the University of Maine School of Law, and the University of Maine Graduate and Professional Center.
Please follow these links to the UMS Logo, UMS and individual university style guides and an image and biographical information for Chancellor Malloy.