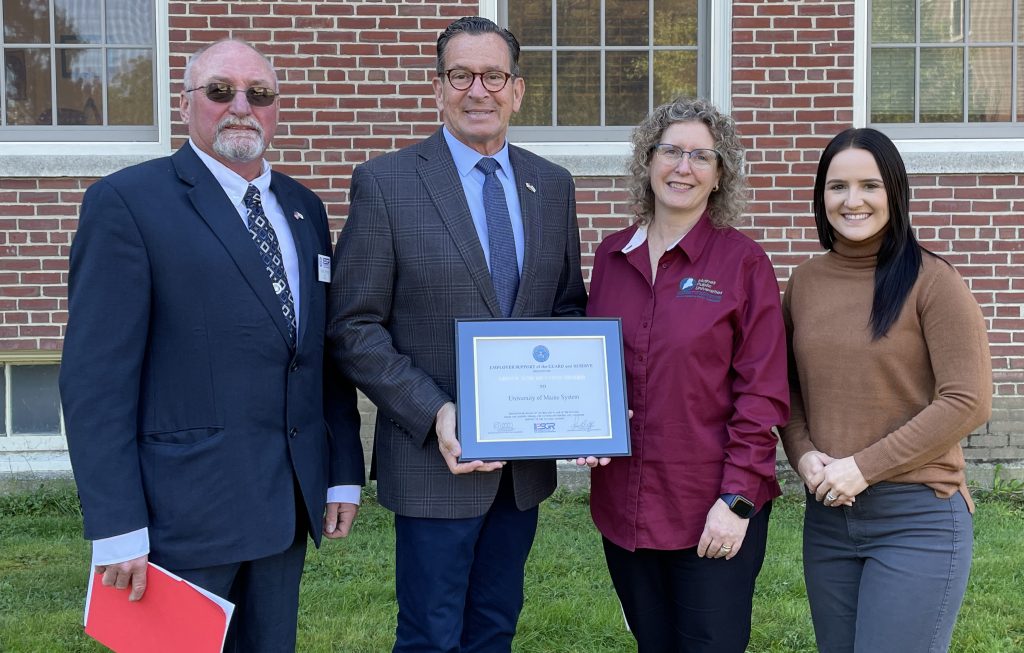 Orono, Maine — The University of Maine System has received the Above and Beyond Award for its support of a university employee serving in the National Guard.
Employer Support of the Guard and Reserve (ESGR) is a Department of Defense-affiliated organization that promotes cooperation between National Guard members and their civilian employers. Its Above and Beyond Award recognizes employers that offer additional services to Guard and reserve employees beyond what the Uniformed Services Employment and Reemployment Rights Act (USERRA) requires.
Master Sgt. Elizabeth Simonds, an associate project manager at the University of Maine, nominated the System for ESGR's Above and Beyond award for its flexibility and recognition of her service.
UMS Chancellor Dannel Malloy accepted the award in a presentation ceremony on Oct. 6 at UMaine. Representatives from the System, ESGR, Maine National Guard and Naval Reserve Officer Training Corps (NROTC) were in attendance.
"We are ever so thankful for the members of our military — past, present and hopefully future — on this campus, and really appreciate this honor," Malloy says. "We support members of our community who are active in the Guard and reserve, and we want them to do well and we want to support their activities with us and support their activities with their military organizations."
When Simonds started her UMS job in February 2020, she was working toward a bachelor's degree in construction engineering technology at UMaine. She had worked as a full-time engineering technician with the National Guard for three years before joining the System.
Flexible work hours allowed Simonds to complete her bachelor's degree in May 2020. The System has also allowed her to take paid-time off to participate in up to 17 military training days per year, more than the 15 days in which Guard members are required to participate. The skills she develops during training days, including expertise in leadership and contracting law, help her perform her duties for the System, she says.
"They have benefits that many other employers do not offer," Simonds says.
Simond's nomination emphasized how the System goes above and beyond what many employers offer. Continuous communication between ESGR and the System's Office of Human Resources allows both entities to work together to support active service members.
"I think it's a proactive stance on the part of the University of Maine System because they know that the quality of the individuals coming from the military is there," says Dennis Wellman, chair of the ESGR Maine Committee, who presented the award to UMS.
The ceremony also recognized the support from Simonds' supervisor, Carolyn McDonough, director of capital planning and project management for UMaine and the System.
"I've worked for the university (system) for over 20 years now, and I've worked with a number of employees who served in the Guard," McDonough says, "and I think we're fortunate to have all of them. They generally tend to be dependable, hard-working, great employees to have."
Watch a video about the award presentation ceremony on the University of Maine System Youtube page. (External site)
###
About the University of Maine System
Established in 1968, the University of Maine System (UMS) unites seven distinctive public universities, comprising 10 campuses and numerous centers, in the common purpose of providing quality higher education while delivering on its traditional tripartite mission of teaching, research, and public service.
In 2020 UMS became the first and only statewide enterprise of public higher education in the country to transition to a unified accreditation for the system. Much different than a merger or consolidation, unified accreditation is a new operating model for the University of Maine System that removes the primary barrier to inter-institutional collaboration.
A comprehensive public institution of higher education, UMS serves more than 30,000 students annually and is supported by the efforts of more than 2,000 full-time and part-time faculty, more than 3,000 regular full-time and part-time staff, and a complement of part-time temporary (adjunct) faculty.
Reaching more than 500,000 people annually through educational and cultural offerings, the University of Maine System also benefits from more than two-thirds of its alumni population residing within the state; more than 123,000 individuals.
The System consists of seven main campuses: The University of Maine (UMaine), including its regional campus the University of Maine at Machias (UMM); the University of Maine at Augusta (UMA); the University of Maine at Farmington (UMF); the University of Maine at Fort Kent (UMFK), the University of Maine at Presque Isle (UMPI); and the University of Southern Maine (USM).  The System also includes a UMA campus in Bangor, USM campuses in Gorham and Lewiston-Auburn, the University of Maine School of Law, and the University of Maine Graduate and Professional Center
Please follow these links to the UMS Logo, UMS and individual university style guides and an image and biographical information for Chancellor Malloy.