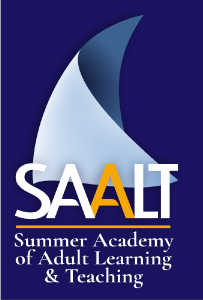 Rucha Modak is a Senior Learning Designer at the Center for Technology Enhanced Learning (External Link) at the University of Southern Maine (USM). She coordinates the Summer Academy for Adult Learning and Teaching (External Link) (SAALT), a UMS-wide professional development academy focused on developing and implementing teaching and learning best practices for the adult non-traditional learner and to build a culture of faculty collaboration throughout the University of Maine System.
What makes the Summer Academy for Adult Learning and Teaching effective? 
"There's very little sitting back and listening to a lecture or listening to somebody give a workshop. There's a lot of active learning."
For the past two years, the faculty who participate can earn a UMS Micro-Credential in Adult Learning and Teaching. How do they earn these digital badges?
"We use the three-level framework. The first level being just simply applying and starting the process of participating in this. And the second level was completing the entire… event. Participating in everything in its entirety… it's a very intensive process, both in terms of learning new content, but also there's a lot of small group work that participants have to do. So, there's a lot of intentionality behind participating in this… And then level 3 is something that our participants can complete after the event… level three is essentially evidence of integrating their learning in their practice. And when they submit that, they can earn level 3."
What are the benefits of earning this micro-credential? 
Modak highlighted that both the micro-credential and the event are beneficial to faculty and the growth of the Summer Academy for Adult Learning and Teaching.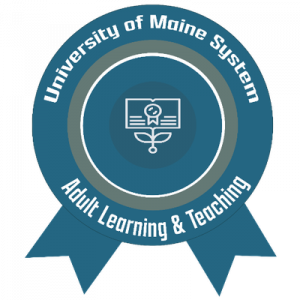 "This is a form of recognition that we can extend to faculty… to be able to showcase some of these faculty members and show what they do, both during SAALT and later when they go back and improve their teaching or incorporate something in their teaching."
Modak is currently working on modifications of the micro-credential to familiarize faculty with the micro-credential process. She plans to provide examples of Level 3 work that was submitted to aid future faculty in earning the micro-credential. She would also like to add a micro-credential that focuses on the collaborative piece of the Academy.
"I've been hearing about micro-credentials for so long and it still remains innovative" -Rucha Modak
If you would like to learn more about the Summer Academy for Learning and Teaching, please visit this recent write up about SAALT (External Link). To learn more about the Center for Technology Enhanced Learning at USM, or to contact Rucha Modak, visit this University of Southern Maine webpage (External Link). More information about the Adult Learning and Teaching micro-credential is available on our List of Micro-Credentials page and on Badgr (External Link), our badging platform.