Learn How the University of Maine System Works for Adult Learners
Did you know that adults aged 25 or older make up more than 36% of all students enrolled in University of Maine System (UMS) degree programs, and make up over 60% of students who attend school part-time?
At the University of Maine System, we recognize that the adult student is no longer "non-traditional," but an active and growing part of our UMS institutions. We want you to know that we understand the unique challenges that come along with pursuing your educational goals and juggling all the other responsibilities you have. We also want you to know that you are an important and valued part of our campuses and that you bring with your insights and experiences that add to our campus communities.
---
Here are all the ways the University of Maine System is working for you, so you can achieve your goal.
We can make it more affordable with adult student-centered financial supports.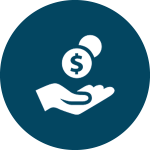 Along with the "come-back" Adult Degree Completion Scholarship, 2021 saw the launch of the Opening Doors Scholarship built to assist Adult Students who are just starting on their college educational path. The University of Maine System is also piloting a first in the state small debt forgiveness program. The UMS Small Debt Forgiveness Program (due to launch Fall 2021 is designed to move students back into college work by forgiving up to $2,500 of debt incurred from fees or tuition more than two years old. After two successive and successful semesters back at a UMS institution, the student will have up to $2,500 in University of Maine System debt canceled. All three financial incentives are administered by the UMS Student Success Center Team. Want more information? Speak with a Success Coach or explore our financial aid options.
Wouldn't we all like a few Career Insights?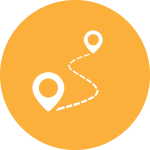 Of course, we would. Even better, imagine how valuable it would be if you had had those insights before starting along your educational path. So, we've provided you with a tool that gives you current job information statistics, earning potential information and connects in-demand career options with University of Maine System programs and course work. Career Insights provides connections between a viable career and a University of Maine System credential of value. In combination with some good career planning support along the way from campus-based career service professionals, tools like this help students find their path between post-secondary learning and future goals.
Create a place where one-stop opens all doors.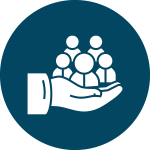 Embrace new forms of learning to move you to your career goal faster.
Micro-Credential pathways are a new, innovative approach to delivering competency/skill-based learning which can be validated via electronic badging platforms. The UMS and the Maine Community College System, together, have invested in the "BADGR" platform. And are actively working on developing an "Ecosystem" across the state with partners in Adult Education, Maine Dept. of Labor, Corrections and the Maine State Public Library. If you haven't heard about Micro-Credentials yet, you will!
We think about the whole student.
This year, UMS Office of Student Success and Credential Attainment launched the SilverCloud app. SilverCloud is an online, self-guided, interactive resource that provides all University of Maine System students with no-cost, confidential help for mental health issues and stress management 24 hours a day. Over 500 students have already signed up and taken advantage of this important tool. Campus-based mental health counselors review aggregate data to help inform decisions about the immediate need and future support provision.
We encourage innovation at your campus.
Here are some of the great new programs being developed across the system with you in mind.
UMaine Online
UMaineOnline (External Link) is working on comprehensive career support services to be available all online, such as structured career development workshops, small group and individual career advising support and mentoring services.
University of Southern Maine Learning Commons
At the Learning Commons at the University of Southern Maine (External Site), the requests for support they field the most among adult learners are assistance with technology, guidance for navigating the research process and establishing effective learning habits. The University of Southern Maine is, therefore, creating a new peer wrap-around service role: Adult Learner Coaches.
University of Maine at Augusta's TRIO Program
The University of Maine at Augusta (UMA)'s TRIO Program (External Link) is developing a "digital passport system". A passport–for these purposes–is a digital collection of stamps attesting to the competencies students gather through engagement opportunities. This engagement leads to saving time towards degree completion, financial assistance knowledge, and other fundamental needs, like connections with family supports.
And, if you're concerned that it's been quite some time since you've done textbook math, you're not alone. That's why UMA offers entering students a math brush-up opportunity for adult learners who anticipate becoming UMA degree students or degree-enrolled individuals.
University of Fort Kent's Business Management Online Degree Program
The University of Maine at Fort Kent will be launching a new fully online business program for those who've started, but not completed a degree. The Business Management Online Degree Completion program (External Link) has been created to accommodate students with 60-90 college credits with opportunities to convert prior activities through Prior Learning Assessment (PLA) models. The program will feature 7-week micro-semesters offered year-round, completely online. The degree, as planned, can be completed in 1 to 2 years.
The partnership between the University of Maine at Farmington, University of Maine at Machias and Franklin County Adult Education
Maine, like most of the U.S., is facing a shortage of highly prepared teachers. The University of Maine at Farmington (UMF), together with the University of Maine at Machias (UMM) and Franklin County Adult Education, is developing Pathways to Teaching for Adult Learners (PTAL). PTAL is a career pathway program for adults currently employed as education technicians and substitutes in Maine schools, career changers and recent graduates of Maine's adult education programs across the state who are interested in pursuing careers in teaching. Best of all, participants will have no charge for the program as it will run through the Adult Education College Transition Program. Participants can also be awarded institutional credit through articulation agreements with UMF and UMM. For more information contact:
Program Contact: Dr. Patricia Hrusa Williams
Associate Professor and Division Chair for Elementary, Early Childhood, and Early Childhood Special Education
University of Maine at Farmington
Email: patricia.h.williams@maine.edu
---
These are just a few of the ways that everyone at the University of Maine System thinks about your success. We want you to succeed, and we are ready when you are to make this happen.