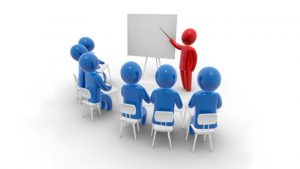 Overview
The mission of the Technical Training team is to promote and support employee development and organizational effectiveness by providing educational training programs. Trainings are designed to meet individual, group or departmental, and institutional needs and objectives. The team strives to enhance individual learning and development as the means for creating a better workplace environment and for building a stronger University of Maine System community.
On-Demand Training
For a collection of quick answers and training options, visit the IT Training Resources page.  Faculty, staff and students also can access training topics via UMS Academy, using their UMS credentials to log in.
Instructor-Led Workshops
A schedule of upcoming workshops and webinars is kept at the top of the IT Training Resources page. To request training for your office or campus, please submit this request form or email ittraining@maine.edu.
Lunch&Learn Series
See the current list of Lunch&Learn webinars and recordings of past sessions. Contact ittraining@maine.edu to suggest or request a topic.
Request Training
To request training for your group, please complete the request form or contact ittraining@maine.edu.