UMS COVID-19 Clearance Shield User Guide v. 0.3
This user guide serves to describe the purpose of the UMS COVID-19 Clearance Shield and the process of accessing your UMS COVID-19 Clearance Shield through the UMS COVID-19 Portal (https://umaineportal.pointnclick.com/) for students, faculty, and staff. This Web App is accessible from any UMS workstation, personal computer, smartphone, or other web-enabled devices.
Though closely coupled to Compliance Verification, the Clearance Shield's primary purpose is to facilitate entry into large campus gatherings and other University sponsored events. The Clearance Shield should not be used to determine an individual's complete compliance (or lack thereof) with UMS vaccination compliance policies and rules. Please visit the UMS Vaccination Verification Application to understand your overall compliance.
As referenced in the Vaccination and Compliance Verification Guide, your vaccination record and/or vaccination exemption form(s) will be stored within the UMS COVID-19 (PointNClick) Portal ONLY. The PointNClick system is a secure electronic medical record system used by healthcare providers and universities around the globe. By providing your these records, you are consenting to and authorizing the University of Maine System to verify and use your COVID-19 vaccination status ONLY for pandemic management purposes, including compliance with University guidelines and the state of Maine, CDC, and other applicable laws, regulations, guidance or standards, which may include exemption from quarantine or testing in certain circumstances.
Accessing the UMS COVID-19 Portal (Clearance Shield Status)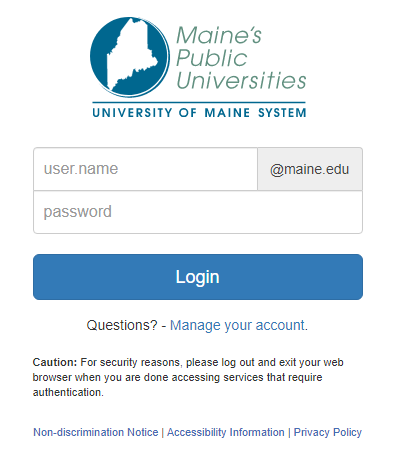 Using a web browser (PC/Mac, Tablet or Smartphone), visit https://umaineportal.pointnclick.com/
You will be taken to the UMS login page where you will be asked to enter your username and UMS password. Once verified, you will be taken back to the app.
In the UMS COVID-19 Portal, click on the Show Clearance Shield link near the top of the page.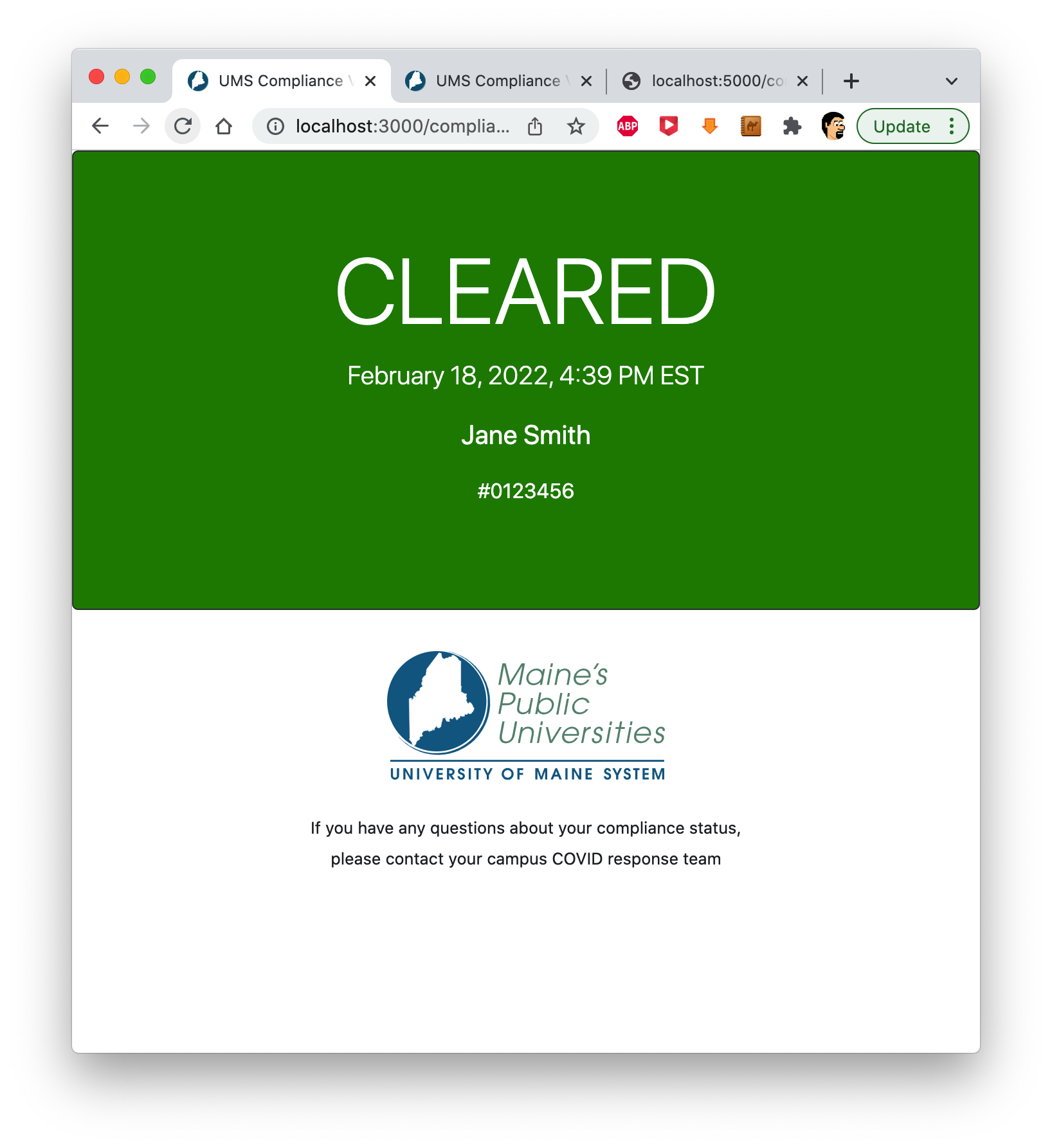 Your current Clearance Shield status will be presented and denoted with different colors.
GREEN indicates 'Cleared' Status. You are compliant with the University vaccination requirements, including applicable testing obligations, and have been determined to have an on-campus presence.
Note: Green Cleared Status is displayed only for individuals that have a validated vaccination series , or a specific approved exemption with weekly asymptomatic testing, in the UMS COVID-19 portal. Please visit the Together for Maine Website for details regarding vaccination requirements for employees and students.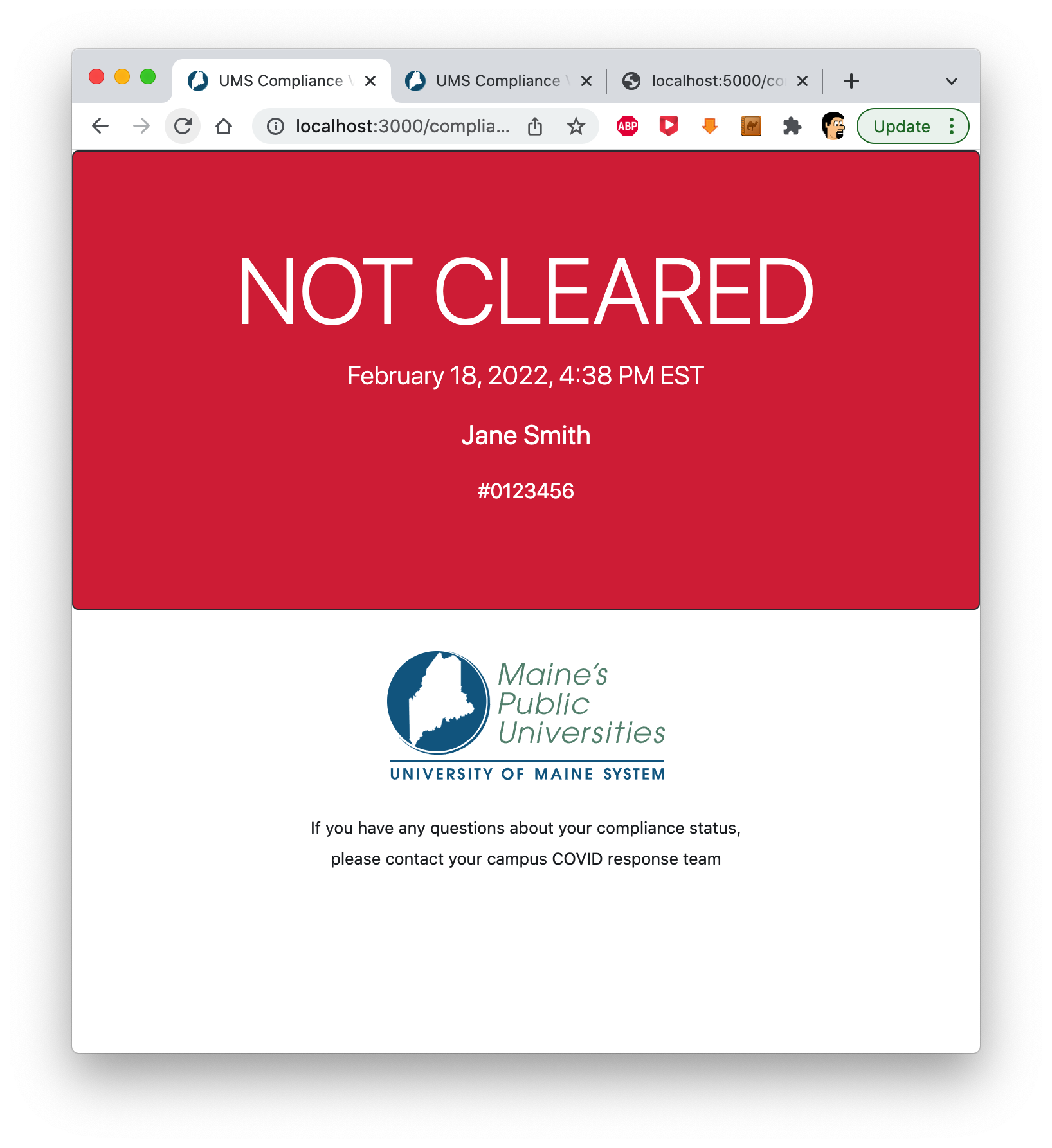 RED indicates 'NOT CLEARED' Status. You do not meet the requirements for a green 'CLEARED' Status. This status will be displayed if the individual has not fully met the required vaccination requirements, is determined to be Remote/Online Only, has an approved vaccine exemption request through the UMS COVID-19 Portal and has not met their weekly testing obligation, or has another circumstance which does not allow for a 'CLEARED' Status.
Note: A 'NOT CLEARED' Status does not, by itself, prohibit an individual from being on-campus. Rather, the individual may not use the Clearance Shield to expedite entrance into a University event or facility. Other documents, such as a vaccination/booster card or proof of a recent negative COVID-19 test may be required.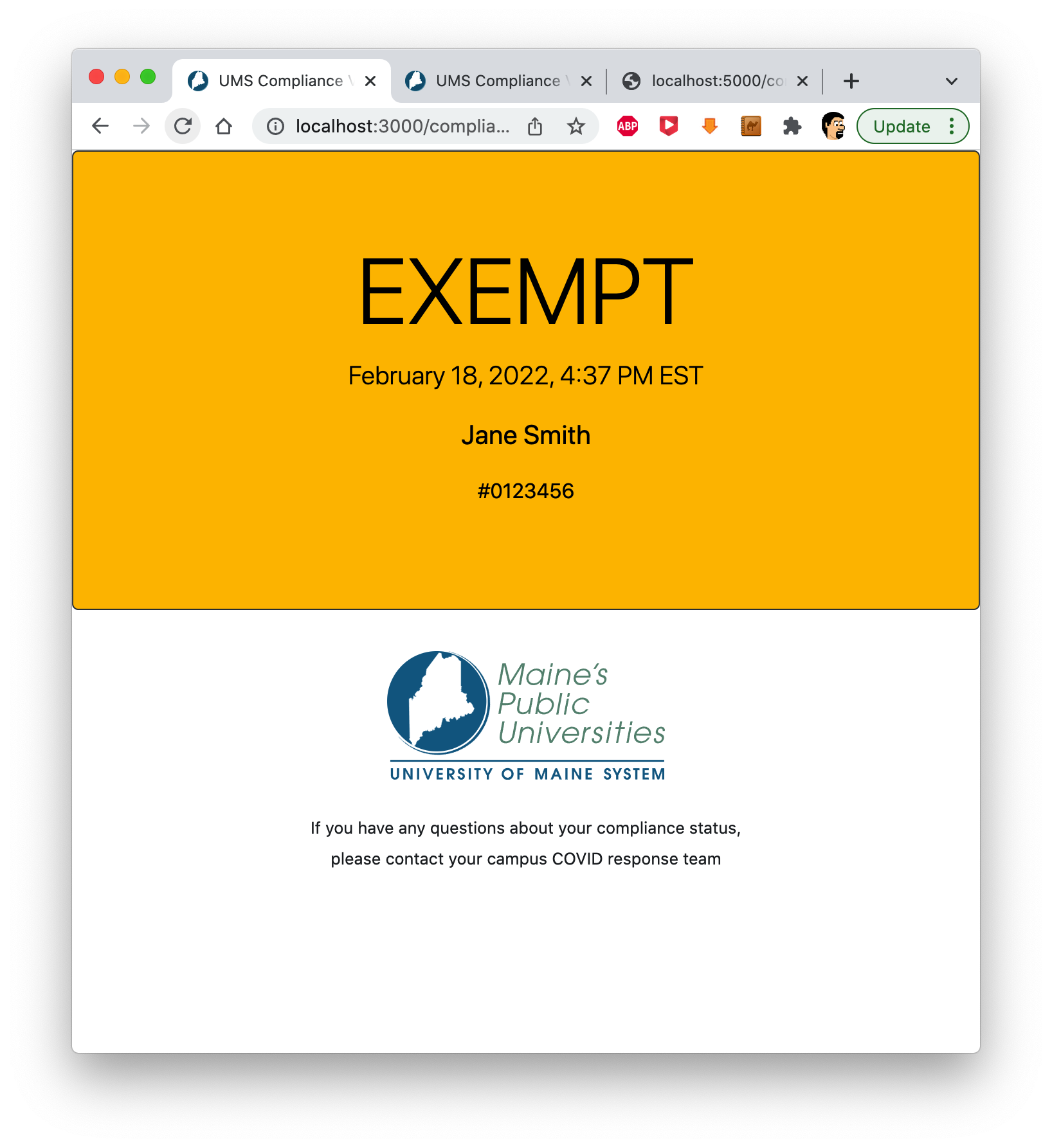 YELLOW indicates 'Exempt' You have an approved exemption for the Vaccine Requirement and do not have a current weekly asymptomatic test on file within the UMS COVID-19 Portal system.
Note: Evidence of a recent negative test may be required or requested for entry into University venues.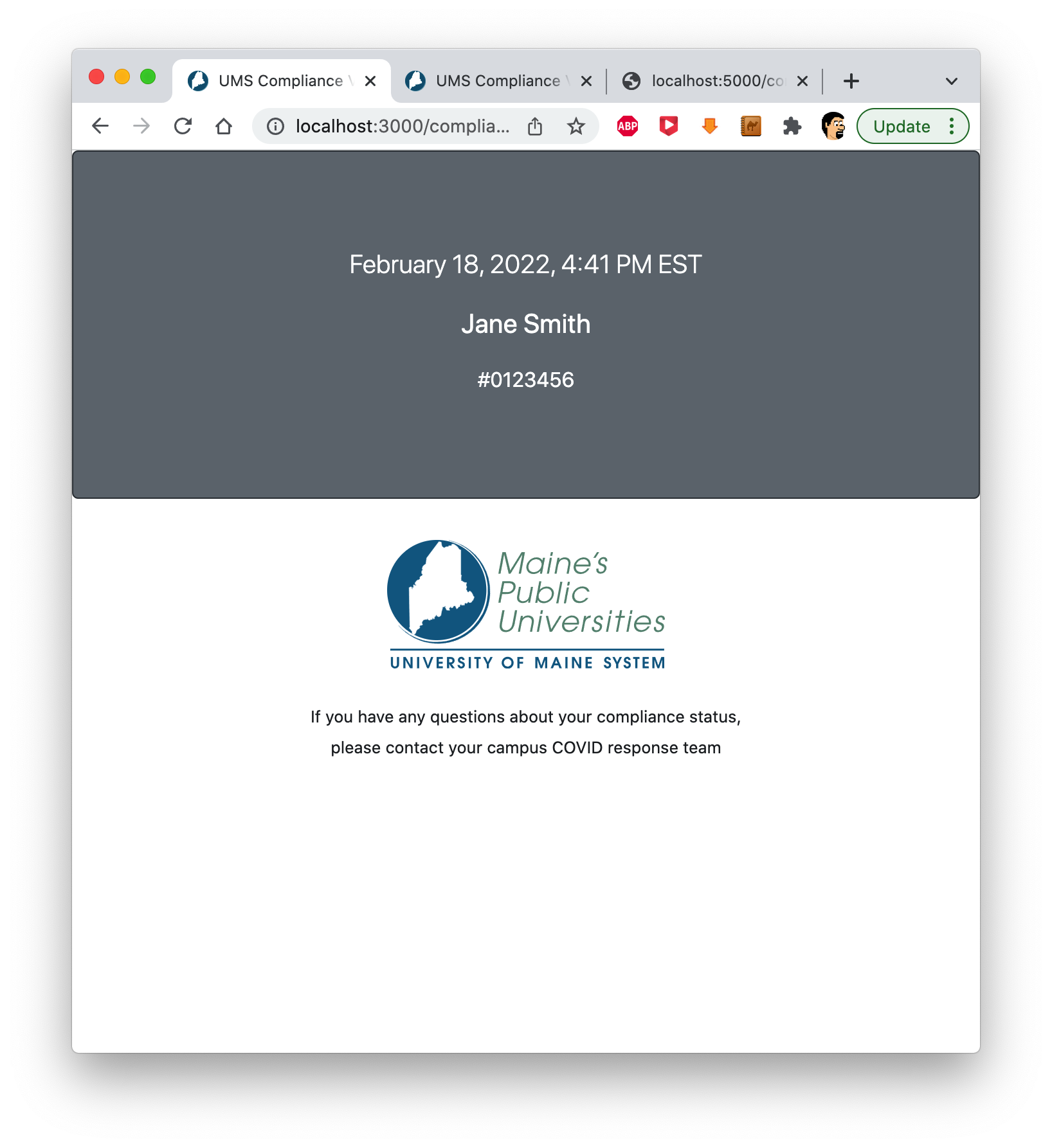 GRAY indicates 'No Active Status' in the UMS COVID-19 portal.
Note: This may appear if you are not currently enrolled in courses or your current employment status can not be determined.
Requesting Support
For support with the UMS Pointnclick Web App, please contact the US:IT Help Desk
– https://itsupport.maine.edu